Metro Board Report on the North San Fernando Valley Bus Rapid Transit Project Available Online
Metro's staff report and agenda for the North San Fernando Valley Transit Corridor Project is now available on the Metro Board page. We encourage you to check out Metro's blog The Source article for more information.
The Board meeting will be held at 10:00 a.m. on Thursday, October 24 at the Metro headquarters located at One Gateway Plaza, Los Angeles 90012 in the third floor Board room. All Board meetings are open to the public. Links to watch the Board meeting live in English and in Spanish can be found here: https://boardagendas.metro.net/
Next Steps
Metro will continue engaging stakeholders as the process moves forward. We'll be at the Latino Expo and Dia de los Muertos Festival at Panorama Mall on Saturday, October 26.
Contact Us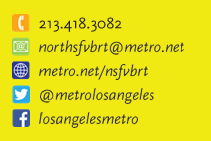 Thank you again for your participation in the North San Fernando Valley Transit Corridor Project.
All Metro meetings are held at ADA accessible facilities. Spanish translation will be provided. Other ADA accommodations and translations available by calling 323.466.3876, at least 72 hours in advance.